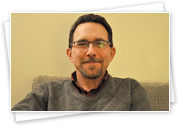 Marc J. Becker  LISW-S
Phone: (614) 895-9998 x314
Mobile: (614) 783-9795
Marc uses a strength-based solution-focused approach to therapy. He focuses on what it will take to bring you to a place in your life where you want to be. He focuses on your strengths and helps you develop and use them so you no longer feel a need for the additional support that therapy provides. For those of you who feel you don't have any strength he will help you develop and identify problem-solving and coping skills to deal with whatever life stressors you are experiencing.
Marc's clients often refer to him as very caring and extremely knowledgeable. They also describe him as non-judgmental. They often feel that he shows an understanding of where they are in life while maintaining a level of professionalism; this allows him to help them navigate through the sometimes rough waters of what is often called "life".
Marc's experience and expertise focuses on a number of mental health issues. He has experience working with clients in varying life stages. He works with children as young as 5 years old and with adults as young as 70 years of age. He often uses play-therapy with children and cognitive behavioral therapy with adolescents and adults. However, he does not limit his treatment methods to these two approaches. His focus is on where the clients are and what would work best for them.
His expertise includes but is not limited to- anxiety and panic attacks, depression, grief and loss issues, attention deficit issues with children and adults, blended family issues, and couple and marital issues. Marc has a Bachelor degree from Wright State University and a Graduate degree from The Ohio State University. He has practiced in the area of clinical social work since 1984.
He has worked in a variety of treatment settings from a community action agency, hospital, school-based program, partial hospitalization program to an outpatient treatment setting. A number of his referrals come from clients who were extremely satisfied with the therapeutic process they experienced with Marc.